Morgantown, West Virginia
It's a small town in the middle of the mountains out in West Virginia - surely there's got to be a good place for ice cream- or maybe two right across the street from each other. Through in depth research the intel was in place before I even got there and I had plans post-race to get my fill. That was my incentive. If I could go out there and race the "hills" why not indulge in some treats after the race. Now all we had to do was wait for the race to start... and get ourselves through the hills.


Pre-Race
It was an easy drive up to there- we went on Friday afternoon so we could chill for a day in town pre-race and take it easy. Getting there was pretty straight forward and the mountains grew around us as we got closer to Morgantown. Actually looking out the car window and driving up and down all the passes made me wonder what type of roads the course going to be on. Maybe there was going to be a real climb on the course. We'd heard about this being a tough bike ride but also that it had been changed to accommodate more riders. Nevertheless I didn't see much flat of anything anywhere nearby. This could get fun.
The idea for the race, after having talked it over with my coach, was to race the swim and the bike like I would normally then take the run at an easier IM pace. Why? Well, this was three weeks before my A race- IM Lake Placid- and the effects of recovering after a hard run effort was not a great situation to be in with a few weeks to go. So mentally I was really tuning up for my goal race and this was more about making sure everything was in place. This obviously took some of the self impossed presure off.
As we rolled in, the temperature was cool and we went through the heart of town on our way to the hotel. It's a small place. It also has its share of steep short hills. We checked in and headed out for dinner trying to keep tabs on which roads where part of the course and which ones would be the ones to look for. The next day we drove the course and got a good idea of what it was all about. This could actually be a fast course- it was pretty flat at the beginning and then it was sloping upwards for a while with two considerable hills before sloping back into town- two loops. But no harsh climbs. The run on the other hand had one section of steep climbing through a couple bolcks in town- and it was also a two loop course, the second loop dishing out the climb at mile 11.5.
The rest of the day was pre-registration, bike check in and chatting it up with friends. We had a great group dinner- the group was great, the dinner was ok. But it was nice to talk a little smack and jostle back and forth to see who was gonna dish what on race day. The momentum was building.


The Race
The alarm went off and it was time to go. It was a quick prep and from our hotel window we could see the swim start as well as all the athletes making their way to the start already. If anything we would not be the early ones today- someone probably got there hours ago. One thing I've come to get used to is not worrying about what others are doing. If they want to spend an extra two hours walking around and getting nervous - by all means, but that's not what I need. Better to have enough time to deal with some unexpected issue but don't waste all your time sitting around waiting.
We got to transition and then made our way to the swim start. The distance between the swim out and T1 was a good ways away and that would play itself out during the race. Christal and I said our good-lucks and then I took to the dock- I was in the second wave after the pros.
Swim
We were all walking on the dock getting in one by one waiting to see how long we could avoid getting in. And when it was time, with about 3 minutes to go, I jumped in and got situated. Went right up to the front line wondering why so many people are behind me. The line wasn't even crowded. I'm side by side with the race director in the water (he's racing as well and we started next to each other in a previous race in St Croix- oh andhe's super fast). I looked up at the crowd and felt good about the water.
The mark to GO was announced and we dashed out to the first buoy where you turn left and left again for the length of the course. It was pretty decent without much incident and I felt like I was swimming by myself for most of it. My only concern was that I wasn't using the advantage of grabbing some feet but it was rather well spread out. It was odd because it was such a straight course and I started to wonder if I wasn't making the best of my line-- maybe I was drifting and not on course. But I had swimmers on both sides and I kept at it. After the last turn I hit a little bit of friction and it was clear that the finish line was in focus and we were all converging. I took a few stronger sets in there to get myself out of the way and that seemed to help out. Before I knew it I was back to the dock and lifting myself out.
Swim: 33:21
T1
Once I was out of the water we had a long grade up to the main transition area and it was also a long run- probably a quarter mile. I stayed steady while some others who were trying to PR their T1 time. It was crazy how fast some of these guys were passing me. I got to my bike, quickly got my helmet and shoes on and was off.
T1: 3:40
Bike
Ah yes- the bike is always a good time. We rolled out of town through a myriad of cones and cop cars to lead us onto a side road that followed the river for a while. It was a bit bumpy- good enough to leave enough bike parts and bottles strewn on the course so that it was like navigating a game of space invaders. At times I was passing someone and we'd both roll a-r-o-u-n-d a pot hole or debris as if we were on the same team. That made it a little interesting and a bit harder to stay on track of my power numbers. But soon enough it thinned out and the real game began. I was going at a good clip and was right where I needed to be- the first flat section ticked off quickly and then the upward slope began. This section was actually easier for me to ride because I could pinpoint my effort more accurately and not have to try and keep my power output at a high level- rather it just rose up and I was just making sure not to surpass my plan.
There were a couple young guys doing the olympic which came up on me and were clearly taking turns pulling eachother. I tried to stay in my box- my plan- my power and heart rate zones- but it was just gonna have to wait. I rode up right next to the guy in back and yelled out that it wasn't a draft-legal race, back off. He looked over and basically looked back down- nothing. I dropped back because I wasn't about to keep that level of intensity. It was only about a minute later that we hit the first hill and I was about 50 yards back. I geared in for the hill and they were out of their saddle- luckily that endurance training stuff works. I gained my distance on them before the top of the hill and then I jammed up right next to them and got between them. I slowly slowed down to put space between the two and started to smile. Not a very nice thing to do but it felt great. After we dropped back like 15 feet the guy in back of me sprinted around and took his turn- pulling the other guy away. It was sweet to see them again struggling on the next climb of the day as I passed them, and never saw them again.
Bike Elevation (one lap)



click to enlarge
The first lap was smooth and I came back into town looking forward to having more space on the second lap. It was a pretty tight turnaround to get back out on lap two and some idiot spectator decide to cross the road just as I was approaching. I slammed on the breaks at the beginning of my turn as my back wheel began to slide. Somehow I released the breaks just enough so the wheel wouldn't continue to slide- then gained some balance and hit the breaks again before plowing into him. It was a spectacle where everyone in the crowd was ooowing and ahhing as I completed the wobbly turn. I'm sure I said something under my breath but was so shocked to still be upright that I took off and sat back down.
Lap two was steady. I could tell more or less where my friends were on the course from two out and backs during the lap- this gave me a little incentive to keep my pace up. Before I knew it I was back at transition.
Bike: 2:38:18
Power Stats


Click to enlarge

--
Duration
Work
TSS
IF
N Power
VI
Distance
HR
Cadence
Speed

TOTAL
2:38:11
2027 kJ
150.6
0.756
223
1.04
56.718 mi
136
80
21.5
LAP 1
1:18:10
1003 kJ
74.5
0.756
223
1.04
28.35 mi
135
81
21.8
LAP 2
1:20:00
1024 kJ
76.2
0.756
223
1.05
28.368 mi
137
79
21.3
T2
This was fast- in, hang the bike, helmet and shoes off, into my running shoes and I grabbed my visor and race belt. Before I was out I had them both on.
T2: 0:47
Run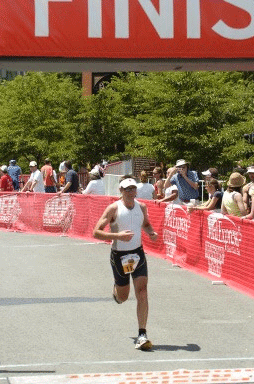 Take it easy- steady zone 1 for the first lap (6.5 miles). That was the plan- to have an easy run and pace myself as if this was a marathon. So I got into it and took it easy working off the completly flat start of the run. I got some nutrition in and started to calculate my miles. The first one was WAY too fast. What the heck was I doing here, I thought I was gonna take it easy. Apparently, after talking with others after the race, everyone had a super fast first mile-- or maybe the mile marker was not in the right place! Either way by the time mile two and three rolled around I was on track with about 7:30's and my heart rate was clam. I took one mile at a time knowing I had a big climb and rollers at the end of each lap. The ease of the miles really surprised me but I told myself that if I continued to hold them at this pace just dial it in and don't push it. This was a training race after all.
The hills came and they were brutal. It was short steep climbs that had most of the field walking- and at times walking hunched over. I took it as easy and steady as I could but they certainly took their toll. The good news was that the reward was a slightly downhill grade through the rest of the town until we got back on lap two for a flat section again.
As soon as lap two started I began my finish time calculations. It's just one of those things that keeps your mind working on something. If you run X minutes for Y miles that will put you at about Z for the finish time. Of course one calculation isn't enough- because you never know how the rest of the run will go. So there's a best case scenario, a worst case, a steady case, a best case with a 30 second bathroom break, a 10 second per mile slow down, and so on. What I started to figure out was that I was on track for a sub 5 hour half iron without ever thinking I was in that ballpark.
The mind game then was to keep steady and not deviate. Sure I have the juice to go faster but keep that A race in mind. That's the real prize. Not bad having a sub 5 HIM to boot though.
In the last miles I was passing people left and right. They were really struggling and I was high on endurance training. I was talking with the volunteer kids and encouraging other racers on. "Thanks for volunteering, how'd you know I wanted water?" I knew I was out of control- who wants to hear, "you've got it- almost there" when you're gasping for air and being passed. But as I rounded mile 11 I was at the climbs again and just a couple miles from the end. They weren't easy- the day was getting hot and the end surely could have come sooner. Ice cream was near.
In the last block before the finish chute I saw a man shuffling forward with an olympic race marking on his calf. He was struggling but pushing through. I told him that he was just a block away and it was all downhill from there. I think he could have kissed me from the huge smile on his face and the outpouring of gratitude.
The finish chute appeared and I coasted through. I was done!
Run: 1:40:05
Heart Rate Graph



RESULTS

EVENT

DISTANCE

TIME

PACE

HR

RANK ALL

Swim
1.2m
33:21
1:35
146
152
T1
3:40
147
Bike
56m
2:38:18
21.2
137
44
T2
:47
134
Run
13.1m
1:40:05
7:38
148
42
Total
4:56:11
142
55
Ranking:
6/39 AG
55/298 overall


Post-Race
We all gathered at the finish line as more and more friends came through. We had a strong showing from DC Tri Club and it was nice to enjoy it together. There was a quick T3 over to the Dairy Queen for some treats- why have just one- and we relived the stories of the day over some ice cream.


Copyright ReachAbove © 2006 | ReachAbove@blueonblue.com