"... you are an Ironman!"
With one fist clinched and all the energy I thought I didn't have I yelled into the afternoon air, "YEAH!!" - apparently with no mental energy to come up with something more significant. Overjoyed with being done I started to feel like the day just started, the pain evaporated, and I slowed down into real-time where I could take it all in. My dad was there and he looked as happy as I felt, this was certainly time to celebrate. There were masses of people looking on at the finish line. I felt great. I am an Ironman. And getting there was an adventure.


Getting to Lake Placid
I could go back to last November when I first had my sights on Lake Placid and started training for the 2006 season. But let's just say there was a ton of training that led up to this point. I raced in a few half ironman races that helped nail down my nutrition and pacing, visited the course in late May, and also trained with a great plan and strategy that Patrick (my coach) put together. I had great support on and off the training circuit, a few key people to really get a good insight about Lake Placid and Ironman in general, and the desire to do it. All that was key to the fun I had when I finally started the race.
We - my dad and I - drove up half way Wednesday night (actually he did all the driving) and stayed with family - Jeanne and Ming. It was as close to half way as you could get and that allowed us to split the driving into two days which made it about two 5 hour drives. That was nice because at this point I was trying to stay as loose as possible - and it meant I could take all my gear and keep my bike whole without breaking it down for a flight. So we got there on Thursday just after lunch and with the frenzy of athletes buzzing on the streets. The excitement crawled into my bones. Here I was, here I had come from such a long journey. Finally.
The next step was to get in the water. For some reason, I've come to find out that the sooner I do this when I get to a race location the better I feel. And it didn't take me long before I did a loop of the swim, scouted the last couple hills of the bike course and ran for about 30 minutes. It was all low effort- just to get the body in tune with what I was thinking. Better to move around than to sit there and wonder about "what if's." I felt relaxed, and that in itself was surprising- enough so to let me think about what I wanted to accomplish. The more I thought about the race, especially in the last couple weeks, the more I wanted to have a good day of it. The goal times I had set and re-set and analyzed and re-set for the past 6 months had faded and gave way to my desire to have a good time. I took that as a great sign- a sign that would allow me to relax and thus do well for what was served up to me that day. But I also rationalized it as having done everything I could have up to this point- I trained hard and kept to my plan which at times meant 20+ hours a week of training. It also meant training on vacation, socializing (and drinking) less, eating better than I normally would, putting certain things in life on hold, and generally making sure I stayed on track. I missed one workout that I remember during the last four months. All that is to say I felt like the race was what is was- and I did what I was more than comfortable doing to get there.
The next couple days were calm, some more swimming and cruising around town. Friday afternoon the craze of the event was in full force. Everyone had some advice for the first timers- and I took as much as I could gather and then tried to figure out what would be best for me. Swim on the inside- or the outside, take the first loop easy, keep drinking, and on and on. Luckily this wasn't the first time I heard much of this so the repetition helped me feel in control. All good.


Pre-Race
The alarm went off at 4:30am. No hesitation - my plan for the day was already in action. Eat first. Start hydrating. Get my tri shorts and shirt on- it did sink in that I'll be in these clothes until I finish. All my gear was ready to go and much of it was already at transition from the day before. All I had with me was my nutrition and special needs bags (for half way through the bike and the run). I checked everything twice and we left for the shuttle just down the street. So far so good.
It was dark and cool with large clouds as we made our way to the heart of town in a school bus. I already felt like the wheels of time were in motion- at this point you had to rely on the day and there was less than a couple hours before go time. But things were flowing like clockwork. I got off the bus and checked my bike and loaded it with my fuel, checked my transition bags, and headed back out to get body-marked. Quick. I didn't even need to put air in my tires. Next stop was special needs- just a few hundred yards up along the lake. Next was the bathroom break- whether I needed to or not. That left me with about an hour to sit and wait. I actually put my wet suit on to stay a bit warmer. I thought through my day, my heart rate zones, my nutrition plan, my transitions, and the fact that there I was standing in front of Mirror Lake ready to do an Ironman. Then I would think of all the times I had biked a century and how much fun I had. That was my center point- when thoughts got away from me I would come back to having a great time on the bike. Really, it was going to be a fun day. It wasn't hard to convince myself of that.


The Race
It was time to say goodbye and head to the swim start. So this is it. I looked through the crowds of black wet suits and white caps to find someone I knew but it was too crazy and I just walked into the water. Some people were warming up, others were looking around as if someone was going to tell them what to do. Others yet were still waking up. Trying to warm up was like trying to swim in the baby pool - just way too crowded. I made my way to the dock that was on the start line. I'm not the best swimmer but the closer to the line I can get the less I have to swim- that's the theory, even if it's flawed. And so for about ten minutes the small talk grew as I waded near the dock about ten feet around the backside. And with two minutes to go I decided, why I'm still not sure, that I can get another ten feet closer to the line and reach to about the second row right next to the dock. I'm in the midst of the swimmers and the pros are just out in front.
Swim - 2.4m
BAM! No question -- that was the cannon. Little did I know it was sitting on the dock about five feet from my head. The smoke hovered over the water for a minute as the 2200 swimmers fought for position- but there only seemed to be about 1100 positions in the lake. That excitement carried us for the first half of the first loop of the two loop swim. It was by far the most crowded swim I've been in but I felt very comfortable. Maybe because I had little choice in which direction I swam and thus had a much more direct route versus my usual lighting bolt path. That in itself saved me some effort as well as being propelled from the draft and the occasional push from behind. No joke, there were people directly around me for much of the swim to the extent that at times I thought I could go faster and was coasting but couldn't break free from the pack. But I kept myself in check - using this part of the day as the warm-up - and figured that on the second loop I could push a bit harder.
At the turn around buoy I was prepared to hold my line and thought it was going to get rough. The idea of a field 50 competitors wide trying to make a U-turn at the same point seemed like we would get squeezed to a degree that rotating your arms would not be possible. But somehow I kept my line and sped up through the turn just enough to get through without much difficulty. I was getting pumped.
I got out of the first loop at about 36 minutes which was my exact time for one loop a couple days before while I was practicing. Yet during practice I was breathing harder. I took that as a good sign and jumped right back in hoping to get out in an open spot. But that didn't last long, I soon found a new pair of feet to follow. The only difference on this loop was that some people were dropping off and a few taking breaks. I started looking up at the sky- checking out the weather conditions for the bike. Thinking about my day, my nutrition and pacing. Then I sunk my head in and focused on the last part of the swim. Long strides and used my legs more near the end to get them moving.
I came to find out that there was heavy rain during the swim. But in the 75 degree water and with all the crazy splashing about I didn't even notice. What I did notice was that it seemed shorter than my other races even though it was at least twice as far, likely because my mind was dealing with more factors and navigating between people. And 72 minutes after the cannon went off I was getting ready to exit the water. With my swim goal of 70-75 minutes I was right in the thick of it and felt ready for the bike.
Swim - 1:12:56, avg HR 138, 1:44/100yds
T1
As soon as I got out of the water the wet suit strippers (volunteers that "strip" the wet suit off the athletes) were there to assist- and without a word I was on my back and the wet suit was off in a second. Very nice. No need to struggle with that- and I was off to T1 which was about 400 yds away. Coming into the transition oval I hear the announcer call out "Daniel Cassidy from Washington DC is headed out on the bike!" I got my bags and headed for the change tent- and as I run in I find myself standing shoulder to shoulder with about 300 other guys. Forget about getting a seat, I hardly had space between my legs to sort through my bag. An eternity later I had my gear on and I scrambled to the exit- which I had to find. I race my volunteer to my bike and then I'm off to the gate. The roads were wet, the lawn soaked. I knew I needed to take it easy as I rode out.
Longer than expected but then again this was a different animal.
T1 - 7:02
Bike - 112m
I got on the bike and rolled slowly downhill out of town. Riders were still getting adjusted and riding all over the road so I chilled out and mentally reviewed my plan. But I found myself finding my pace right away- passing some and being passed by others. My mind would rewind and play over and over, "it's a long day, take it easy on the first lap. the race is on the last lap of the run. and this is just the start of 112 miles of biking." I settled in for the first 9 miles which rise to the highest point on the route before a 4 mile descent. It was tough to hold back the desire to ride hard and "make up some time" but I didn't want to be bonking too early in the day.

The 'no drafting' rule: you're supposed to have about 4 bike lengths between each rider, or about 20 feet - was just not practical. Think of the swim and how close everyone was- and yes we were more spread out at this point but it was still close quarters. Luckily I was passing people without much effort and that kept me out of the right lane which you could see was boxing people in for the first part of the ride. That got better as time went by- especially after the long descent - some held on, others braked all the way down. I held back some, at 35mph with wet roads and bikes flying by on the left and almost still on the right it was tricky enough to maneuver. On a dry run you only maxed out at about 40mph so it wasn't a huge loss. Better to stay on the road and get a chance to finish the ride.
I kept calculating my time and my average speed over the first loop. But it's difficult to estimate because after the long descent your average is high and it just depends on how low it gets over the course of the rest of the uphill loop. So I kept at it hoping to come in at 3:00 - 3:10. My training ride over Memorial day which I pushed myself harder I came in at about 3:15 and 3:22 (first and second loops) so I was counting on better conditioning to get me through today. It might not seem like a big difference, but overall I wanted to shave about 30 minutes while using less effort- and that's the critical aspect. On my training ride I wouldn't be up for a 26.2 mile run afterward- I only ran 5 miles. I felt good and was hopeful. And the numbers seemed to be lining up as I approached the mid way mark. But the hills get tougher as you reach the end of the loop so it wasn't until I actually went through town and got my special needs bag that I noticed I had a sub 3 hour loop. Great mental energy and still fresh for the second loop.
At special needs, I grabbed a second bottle of liquid nutrition (800 cal of infinIT), more gel and my PB&J. Unfortunately eating a sloppy sandwich while riding through a twisty and hilly town full of spectators wasn't easy. All the while I was also trying to look around, look cool, and take it all in. What was I thinking? One too many sharp turns later I was forced to grab hold with both hands and my sandwich had little chance to make it out of my grip. Real cool. So much for lunch- time to put that liquid nutrition to the test. The roads were dry now and the ride out of town was fast, even catching some air off a few downhill bumps.
The second loop started out positive. I was very happy with both my swim and my bike times thus far. At this point I felt strong enough that I was convinced I would have an even split second loop. And so I spun up the hills and looked forward to the long descent. Bring it on.
There was no way I was going to make it to transition without a bathroom break. What a bummer. But after debating it for over 20 miles and with more than 25 miles to go it was clear I needed to take care of it now. How could I just pull over and stop in the middle of a race? Precious time wasted- then again it was becoming a distraction and I knew solid concentration would be best long term, and even if I got to transition I would have to go then right? So even though it's a cardinal sin to try new things on race day I was stuck here- I never stop for the bathroom but I've never gone on the bike either. I decided to try and go while biking - not on myself, but rather off to the right. With my nutritional bottle in mouth (to keep away from any possible spillage), one hand on the bars, and one hand taking care of business, it was useless- nothing happened. I needed to go but not like that. Oh well, next option was to look for a port-o-potty. At least I gave it a shot.
I made it to the town of Jay just before a 3 mile climb and cruised into the aid station, and right up to the port-o-potty. And there were volunteers to hold your bike while you went. How cool is that? I almost felt like I should tip them. They were about 12 years old and talking trash about people with less desirable bikes. I got a good laugh out of that and was back on track in a few short minutes.
The last 30 miles I began to notice my speed increase (at least comparatively) and I began to pass more and more riders. I felt energized by the hills- a clear indication I was having fun- and town was fast approaching. Before I knew it I was cruising through town ready to drop into T2.
Bike - 5.51:27, avg HR 127, 19.1 mph
T2
As soon as I get in they took my bike and directed me to the change tent. Well, no change tent for me thank you. Ironically, the only way to flow through is to actually go through the tent- but I get ready outside where I know I'll have more space and more light. Quick and painless I'm off for the run.
T2 - 2:15
Run - 26.2m
I was totally ready for this now. Felt a bit heavy but that was to be expected and I was looking forward to the downhill exit through town to get into my groove. And soon I was out on the first loop in auto pilot. The hills coming back into town were a nice change of pace or maybe just something else to think about. Different speed and power with a clear and relatively quick point of accomplishment.
I skipped my run special needs. I only had more gel in there and I was using less and less of it. I'm not sure exactly why but my sense was that my stomach was full enough- things were going well, and I didn't want to change a thing. I took small amounts of gel but not anywhere near what my plan called for. I kept on top of my salt and fluids knowing that should keep me moving.

My first loop took me about 1:52. Just one loop left and at my pace I was looking to get in a sub 4 marathon. For some reason, not having run a marathon before this became my focus and my overall time was not in the equation. I also wanted to run the entire run- and with that I kept pushing one leg in front of the other as if there was no other choice.
It was at about mile 17 when I got emotional. As I felt the tears come on I wasn't sure how that would affect my pace so I swallowed them up and decided I'd have plenty of time for that at the finish line. It was just too unpredictable. Instead I focused on my journey since 7am. Another tactic handed down through experienced friends. What I had left to race seemed to grow less and less.
I was anticipating the wall that is so commonly talked about at mile 18-22 or so but it never really hit me. I was clearly slowing down and I tried to keep track of my per mile pace to give me a sense of where I was physically. And past the 16 mile mark my legs were aching. But all things considered I was still running - my pace fell off from 8mm at the beginning to 9:30mm+ for the last 6.2 miles. I thought I would have started at a faster pace but I went with what felt comfortable and stuck with it. When I started to realize that I was on pace for a sub 4 hour run that became my goal. Each mile I would recalculate and keep on track. The only factors that would throw me off were the hills going up into town, a bathroom break, and that .2 miles at the end of the 26 that for some reason escaped my calculations until mile 25!
I had to take another bathroom break- I couldn't hold it any longer. Checking every port-o-potty to see if they were available it seemed like there was a shortage. I stopped at about 3 or 4 aid stations and all of them were taken. Waiting only a couple seconds at each I figured the next one would be open. Over the course of 4 or 5 miles I really needed to go so when I found an empty one it was just in time. For some reason it seemed like a good idea to stretch while going. No. Not a good idea. My entire right leg felt like it cramped up- much too harsh a stretch that even my foot was in pain. The first thought was that I better be able to walk when I open the door back up. And somehow I was fine, one leg in front of the other.
OK, so the hills were coming up and how much would they slow me down was impossible to figure out. I would run up them as best I could and make up any time on the last two flat miles to the finish. Oh wait, the last 2.2 miles. Right that extra .2 is another 2 minutes - worst case. Being the only one running up the hills that I could see motivated me even more and with the crazy crowds I started to feel like this was the home stretch- and it was!
I got a reminder to keep my "head up and smile! this is your day!" on the last mile. Invaluable advice. I looked around soaking it all in and my legs were no longer a concern. I made it onto the oval and my stride picked up. Around the last bend and two competitors were in view. My sprint was all ON not knowing if I would even reach them. One guy caught on and picked up his pace. As it turns out we all made it to the line at almost the same time- I just nipped them within a second.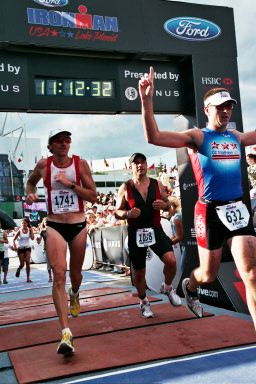 It struck me as I ran across the finish and looked back at the clock- that I was so intensely focused on the sub 4 that my overall finish time was a surprise. I received my medal and yelled into the air. The 'catchers' where there and ready, "Are you ok? Need medical assistance?" All I could blurt out was, "I feel great!" and I really did.
Run - 3.58:57, avg HR 137, 9:08mm
RESULTS
Swim
2.4m
1.12:53
T1
7:02
Bike
112m
5.51:27
T2
2:15
Run
26.2m
3.58:57
Total
11.12:32
Overall I was thrilled. And I was even more thrilled with the fact that I enjoyed my race. Sure, my legs were sore but walking really didn't require them to do much after running for 4 hours. There were those pesky thoughts that maybe I should have pushed harder, but those dissipated easily when I reviewed the picture perfect day. This was what I trained for for so long and being my first IM it fueled me for the next one. I had a great training program, tons of advice and super support, a beautiful day but I also got lucky. And when you're lucky you smile.
At an average HR of 132 and about 9,000 calories later I was done. I am an Ironman. I got a massage and hung around the oval - transformed from athlete to spectator as we cheered them in.
The crowds and supporters were awesome- besides the signs made specifically for me here are some that caught my attention:
Run, Mile 23, uphill: "Suck it up Bitch!"
Run, Mile 17: "Pain is temporary, Pride is forever!"
Run, Mile 25: "It's not Rum'oclock YET!"


Post-Race
Onion rings and beer. Maybe a burger. It tasted like heaven. We sat outside along main street recounting tales of the day, laughing at the sport of triathlon, and feeling great with my new found weightless shoulders. I knew I had some self imposed pressure but it was more evident once it had been lifted. All smiles.
We drove back to the Alpine Air Motel and it still smelled like smoke but I cared less now. The shower was hot and the bed had pillows. My support crew was fast asleep. But with the race on cable I watched the last hour or so with amazement and a new found respect. The broadcast ended and I fell asleep seconds after the clock struck midnight.
The next morning I was up at 7:30am- a relatively late start compared to my training days and certainly compared to race morning. But today was the day to sign up for next year. And for some reason - probably too many to describe - I was thrilled to the core to sign up for next year. As it turns out the race sold out in 90 minutes.


Recovery
As sweet as it is to run in 98 degree sun, it's almost as rewarding knowing you have a week (or so) off. The recovery was in full swing. I enjoyed it thoroughly reliving all the moments from my race and the past nine months of training.


Copyright ReachAbove © 2006 | ReachAbove@blueonblue.com